More Experiences
Discover the finest gastronomic experiences in Athens. Magical settings with breathtaking views of the unrivaled Acropolis, combined with mouthwatering tastes, create an unparalleled experience for every gourmand.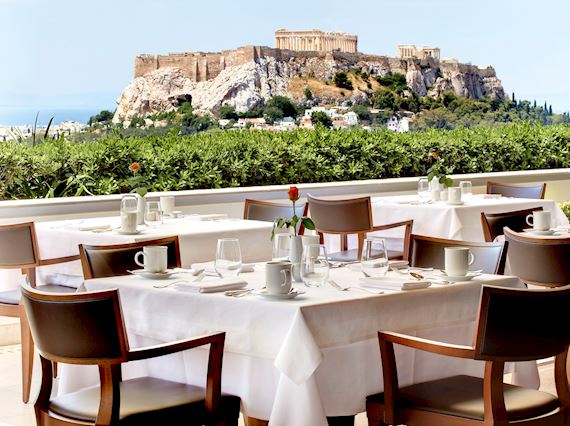 GB Roof Garden Restaurant & Bar
The view from the GB Roof Garden Restaurant & Bar is breathtaking. An idyllic location for a romantic rooftop meal, with the talented Executive Chef Asterios Koustoudis and his highly experienced team.

The Restaurant -awarded by the Wine Spectator magazine four years in a row- serves New Mediterranean cuisine with emphasis on quality raw materials and excellent technique.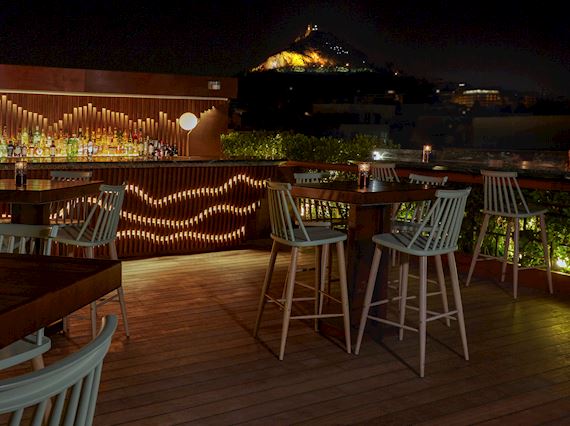 Bar 8
The open-air bar overlooks the lush Lycabettus Hill and Athens from above, while the relaxed atmosphere turns it into the ultimate place-to-be!
Operation hours:
19:00 - 02:00 (seasonal operation starting on May 2019 - November, weather permitting)
Bar 8 operates a no-reservation policy.
The Winter Garden
Next to the Lobby of the Hotel Grande Bretagne, the Winter Garden is undoubtedly the most elegant corner in the heart of Athens. Ideal for meetings and discussions, accompanied by a hot cup of tea, chocolate or coffee and most delicious sweet or savory tastes. Befitting a movie set - live piano music perfectly matches its iconic atmosphere. Marble floors and four imposing columns enhance the air of opulence. Two towering palm trees create an exotic backdrop while natural light spills through a fine vitro ceiling

Green accents embellish hues of pomegranate and orange embracing guests with the luxury of relaxation. Polished silverware, translucent porcelain and crystal glasses compose absolute elegance for the unique culinary experience at the historic Athenian hotel.

Operating daily from 8.00 a.m. until late at night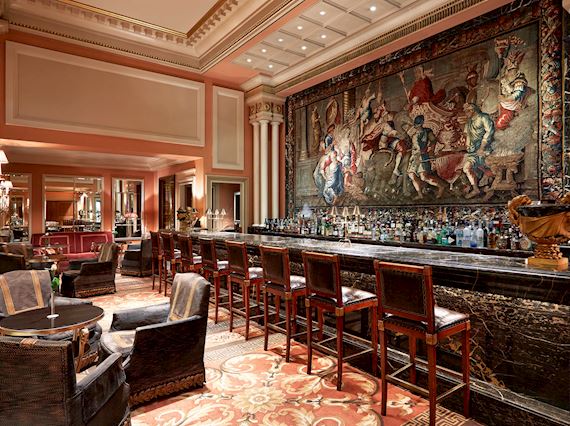 Alexander's Bar
The beloved 18th century tapestry of Alexander the Great is the focal point of the Alexander's Bar, next to the Winter Garden Lounge. With its clubby atmosphere you will want to linger over a classic cocktail, a refined brandy or an exquisite cognac.
Operation hours:
8:00am - 12:00am (last order 11:30pm)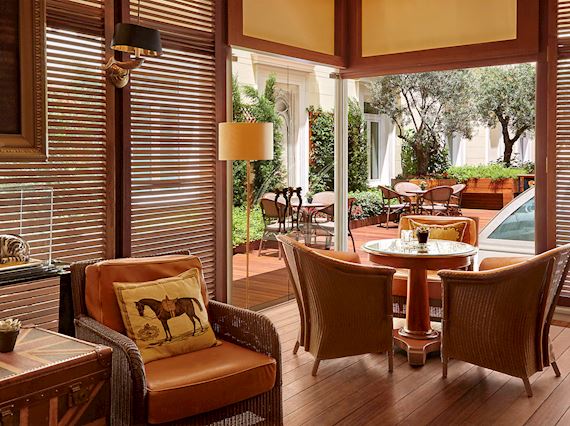 Alexander's Cigar Lounge
Experience luxury in the most up to date cigar bar in town. Alexander's Cigar Lounge is a sophisticated space located in the inner garden of the Hotel Grande Bretagne and offers an ideal setting for enjoying fine cigars, wines, liquors, coffee or tea with a friendly and discreet service.
With its colonial elegance and warm atmosphere, it is a unique place for relaxation.
Operation hours:
14:00 - 02:00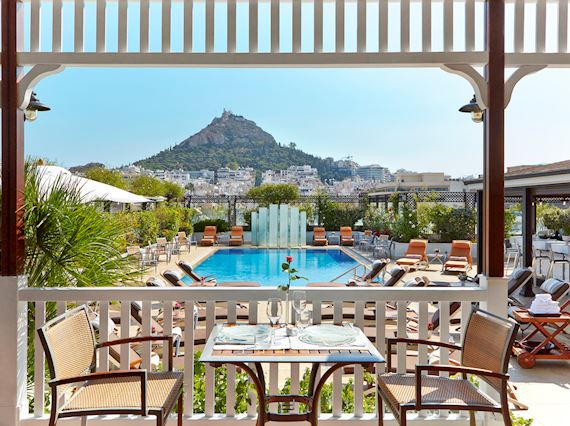 GB Pool Bar & Grill
Located on the 7th floor, our tranquil rooftop Pool Bar offers magnificent views of Lycabettus Hill and an illuminated Athens.
Indulge under the Athenian sun at the GB Pool Bar of the Hotel Grande Bretagne and enjoy authentic Greek cuisine specially prepared by our Chef, or light and healthy meals accompanied by rejuvenating cocktails.
Operation hours:
11:00am - 7:30pm (May 2019 - end October 2019; seasonal operation; for hotel residents only)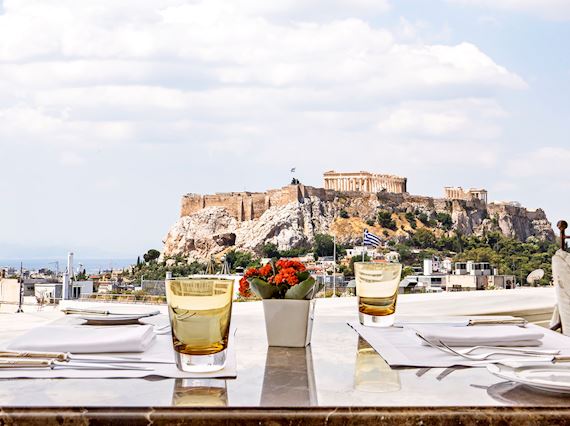 Tudor Hall at King George Hotel
Immerse youself in Athenian atmosphere through Tudor Hall's Greek gastronomy. Against a backdrop of the ancient and modern city. Located on the 7th floor of King George, the venue promises prestige.

Selected amongst the best restaurants in Greece in 2018, for the fifth year in a row, the restaurant recently received the Greek Cuisine and Toques d'Or award ('Golden Chef's Hat', Toques d'Or 2018) by Athinorama magazine.