The Wine Library
We proudly introduce you to a unique setting, the Wine Library, located at the mezzanine of the GB Corner at the Hotel Grande Bretagne, a distinct "library", showcasing all the 3.500 wine labels of the historic hotel.
The impressive 19th - century table serves for private wine tastings and unique wine pairing meetings, while the wines are stored to the appropriate temperature within the eye-catching glassy showcase.
Let the Head Sommelier of the Hotel Grande Bretagne, Evangelos Psofidis, introduce you to indigenous Greek and international varieties, as well as propose the wine that exclusively responds to your taste preferences.



Important notice: The Wine Library will remain closed until further notice. Below listed events are currently not valid.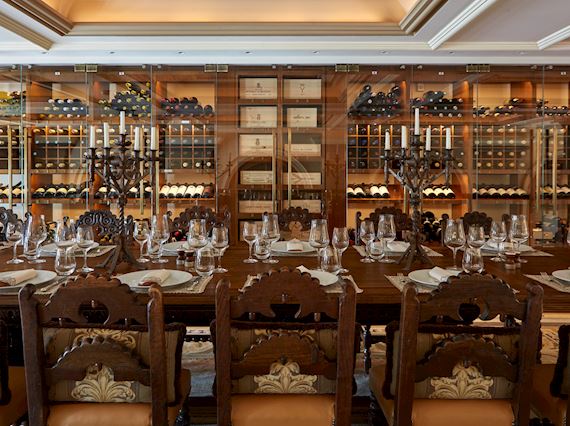 Taste & Wine Workshops
For all wine connoisseurs and those who wish to acquire such status, the hotel's Head Sommelier Mr. Evangelos Psofidis, curates a series of exclusive Taste & Wine Workshops.
Gain the knowledge of wine production, decode the world's top grape varieties, their characteristics and become acquainted with the art of wine and food pairing. The love of good wine and gastronomy amalgamates with knowledge and a thirst learn!

Ideal for small groups of 4 to 14 people.
For more information, please contact us at
Tel: (+30) 210 3330737